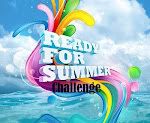 I normally do my official weigh-in on Sunday, so for week one I am starting out at
293.8 lbs.
You can see all the ultimate goals I have set for the 10 week challenge,
HERE
.
Here are my goals for WEEK 1 ::
Weight loss :: Lose at least 2 lbs. More would be great, but I really want to lose at least 2 lbs this week.
NSV (Non-Scale Victory) :: See a change in my measurements. Even a tiny change. You can see my progress so far, HERE.
Exercise :: Work out at least 5x.
Nutrition :: No eating out, count my calories everyday, and stay within my pre-set goals on My Fitness Pal.
There is also a mini-challenge for this week. It is ::
Try a new vegetable, fruit, or other healthy dish of your choice, that you've never had before.
Current Measurements
Neck: 16.5
Right Wrist: 6.75
Bust: 54
Band: 49
Waist: 56
Hips: 60
Right Arm: 17
Right Thigh: 29
Right Calf: 18
Right Ankle: 10
Good luck, everyone!!!!