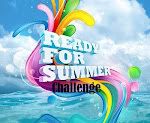 I have decided to participate in a
READY FOR SUMMER Challenge
along with my
SIL Melanie
. The challenge will last 10 weeks and my goals for the challenge are:
Weight loss :: Lose at least 20 lbs.
NSV (Non-Scale Victory) :: Easily fit into my size 22 jeans.
Exercise :: Work out at least 5x a week.
Nutrition :: No eating out, count my calories everyday, and stay within my pre-set goals on My Fitness Pal.
There you have it! I can't wait to get started! Good luck everyone!!!